Overview
Our location on Canada's east coast means that we have a sustainable environment for wild caught fish right on our doorstep. We have strategically invested in modern fish processing, and focused on becoming an exporter of quality Canadian seafood.

Canada is known for its clean waters and beautiful environment. This natural fishing environment along with Canada's strong regulatory system for sustainability and food safety, combined with our extensive expertise and years of experience are the key factors for success at Premium Seafoods Group.
History
The Premium Seafoods Group began as one company, Premium Seafoods Ltd, in 1984 when three French Acadian entrepreneurs - Edgar Samson, Brian Samson, and John F. Samson - formed a small lobster and fish brokering company. Although John and Brian Samson have since passed away, the partners had expanded the original company to a group of companies employing over 200 workers, buying and or processing in excess of 15 million pounds of seafood annually.

Although the group of companies have expanded, Edgar Samson holds true to small community values and his French Acadian roots. His belief in hard work, honesty and commitment to the customer is just as strong as his pride and support of his Acadian heritage and small community.
Our Companies
Premium Seafoods - Buyer/Broker of Fresh & Frozen Seafood
Petit de Grat Packers - Snow Crab Processor
Merry's Seafoods - Broker of Fresh Seafood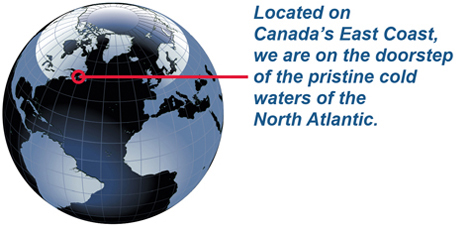 Community


The beautiful small coastal island community of Isle Madame is part the world famous island of Cape Breton. Fishing has been a centuries old way of life for this predominantly French Acadian community of 3,400 residents. It also has been home to the company's founders for all their life. Community meant a lot to them.

As a locally owned business that relies on the community for its livelihood, we believe it is important to give back to the community that helped make Premium Seafoods Group the company it is today. We donate and sponsor many causes and events every year. We want to play our role in helping build a healthier, stronger community.